Hi there!
Our Shetland mares are dams now! They gave birth on last week and now their foals are for sale! Please read our rules below.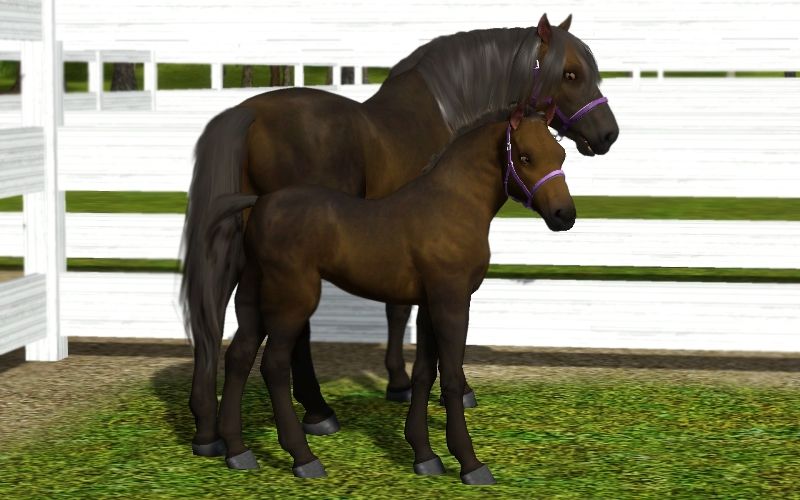 DRC Aisling Dubh
Kärnlinghof Hamlett x Dubh Agus Óir
Smoky Black, Shetland Pony filly
Aisling Dubh (black dream) is very stubborn little filly. She's very pretty and I think that she would be great broodmare. Aisling Dubh will also be great child's pony.
DRC Halen
Fayron's Bramble x Siwgr
Tobiano, Shetland Pony filly
Halen (salt) is stubborn and lazy filly. She have beautiful color and conformation. We'll sell her to home where she will have peaceful life - some foals, maybe competing, but mostly just relaxing in the pasture and being children's pony.
RULES:
• My horses are not for massdownload.
• I sell only 1 copy of each horse.
• You can apply for multiple foals at same time if you want and I´ll consider who gets wchich foal.
• You may not use my foals as a base of your own work and then upload them for massdownload.
• You must put word "hevonen" to your application
• You must keep our prefix in the horse's official (/show) name. You may not add your own prefix or change their names
• Don´t change my horses names!
• Do not change the appearance of the horse without my permission!
• If you are selling horse, which you buy from me, ask if I wanna buy it back
• If you sell my horse, you have to tell these rules for the new owner
• You must register my horses to their registries (if they have active registry)
Application:
Your name:
Name of your stables:
Link/URL to your stables:
Your email:
Name of DRC horse:
Future plans:
Why I should sell this horse to you?:
Send applications to:
dukesequinecenter@hotmail.com